Rock and Roll Hall of Famers Metallica kick off their highly anticipated M72 World Tour in the Meadowlands this weekend. While the notorious rockers have toured dozens of times over their career, the M72 Tour promises more than ever before.
A Show Like Never Before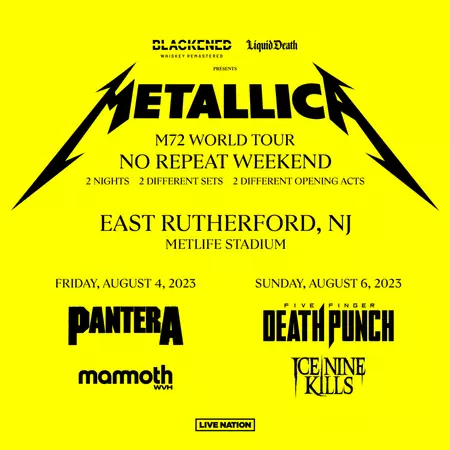 The band will play two shows at MetLife Stadium, one on Aug. 4 and another on Aug. 6. The key detail is that the two shows will be completely different. The band advertises it as "No Repeats Weekend" where no one song will be played at both shows. Each show will be completely unique with its own setlist and separate opening acts.
On Aug. 4, Pantera and Mammoth WVH are set to kick off festivities while on Aug. 6, Five Finger Death Punch and Ice Nine Kills are set to introduce the world-renowned band. 
In addition, Metallica will have two bands warming up the crowd in the parking lots. Prong (Aug. 4) and Overkill (Aug. 6) will rock out in the G section of the MetLife Stadium parking lot each day starting at 3 p.m. It's noted that tickets to the Metallica concert are needed to see the parking lot shows.
Exclusive Popup Store at American Dream
The Metallica popup store at American Dream will be open through Sunday (Aug. 6) from 11 a.m. – 8 p.m.
It's setup in the Dream Live space on Level 3. Enter through the Garden Court, by the glass dome.
There are pop-up exclusives, including vinyl, apparel, accessories, skate decks, YETI x Metallica drinkware.
Featured are Exclusive American Tour Pop-Up Shop Prints from James Bousema & Collectionzz — only available this weekend at American Dream (and a popup shop in Brooklyn). Two colorways of Art were created just for this tour.
There are show-specific shirts that match the posters, in addition to other tour memorabilia .
Busy Weekend in the Meadowlands – What Will Traffic Look Like?
Not only is the Meadowlands region playing host to Metallica this weekend, but the Meadowlands Racetrack will host the 98th Hambletonian as well. Over 80,000 fans are expected to swarm MetLife Stadium for each night of the concert. MetLife Stadium advises arriving by 3 p.m. to avoid highway congestion and traffic.
Read more: Hambletonian Fever Kicks Off at American Dream 
Parking lots will open at 1 p.m. with NJ Transit Rail and Coach USA service beginning around 4 p.m. The gates to the concert open at 4:30 p.m. with the event beginning at 6 p.m. Those picking up fans from the concert are advised to return to the stadium at 10 p.m to avoid traffic.
It is also predicted that rideshare wait time will be close to one or two hours after the show so, the stadium suggests exploring the available public transit options.
Redd's Bar and Restaurant in Carlstedt will be offering its shuttle parking service to and from the restaurant for those who would like to beat out on the MetLife parking traffic.
Merchandise will be available outside of the stadium gates at the MetLife Entrance Gate and the Pedestrian Walkover Bridge. Both stands will begin selling at 1 p.m. with additional merchandise stands set up inside the stadium.
Star-Studded MetLife Summer Continues
Metallica visits the Meadowlands after an already exciting lineup of concerts have come through MetLife Stadium this summer. Taylor Swift got things started when she brought her record-breaking "Eras Tour" to MetLife during Memorial Day Weekend. Since then, Ed Sheeran, K-Pop group Twice and Beyonce have graced the gridiron to perform their greatest hits.
Metallica kicks off a busy month alone at MetLife as following them, K-Pop group BLACKPINK will bring their "Born Pink" tour to the region for two shows on Aug. 11 and 12. Fellow rockers, Guns N' Roses pay a visit to the area on Aug. 15 before the Jets and Giants preseason games begin. NJ legend Bruce Springsteen closes out the Summer with three shows in The Boss's home state on Aug. 30, Sep. 1 and 2.